Self-Administered
Fatty Acid Blood Test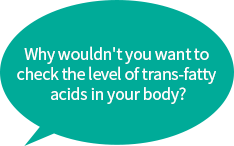 What is Self-Administered
Fatty Acid Blood Test?
With this revolutionary blood test, you can easily check the balance of fatty acids in your blood by using a simple test kit to sample a small amount of blood from your fingertips.
The test can be done by yourself and requires only a small amount of blood, which allows anyone to take the test at home easily.
The most important feature of this test is that it measures trans-fatty acids, which are not included in general blood tests at medical institutions.

To prevent or treat physical and mental health problems, it is essential to understand the fatty acid balance in your body and control the amount of fat consumed in your daily diet.

A general blood test requires a trip to a medical center where a doctor or nurse can draw blood with a syringe. Because the general test does not measure any fatty acids, patients must request that the fatty acid values be checked.
In reality, only patients who may have arteriosclerotic disease are eligible for fatty acid testing, and it is challenging for others to be approved for the test.
The general fatty acid tests mainly examine several items related to Omega-3, Omega-6, and essential fatty acids and their ratios, but no other items for trans fatty acids are measured.

In contrast, the self-administered fatty acid test includes total trans fatty acid. Additionally, it checks various fatty acids for a total of more than 20 different items. In addition to the test results, there is a wealth of information provided to read and understand the key points of the test.
Altogether, this is a significant opportunity that allows participants to review the effects of their dietary habits.
How to Obtain Self-Administered Fatty Acid Blood Test
Upon completion of the order, we will send you the test kit by TA-Q-BIN.
TA-Q-BIN is a home delivery service for residents in Japan run by Yamato Transport and uses the cash on delivery (COD) payment method.
Please make payment for the order at the time of delivery (16,500 yen per order).

Using the test kit, you will take a blood sample by yourself. Please follow the enclosed instructions of the specimen collection process.

Please return the specimen (a piece of filter paper) and the application form to the Kyorin Preventive Medicine Institute.
(A postage-paid return envelope is enclosed in the test kit.)

After the return of the test, the results will arrive by mail in about one month.
Test Payment/How to Order
One test kit: 16,500 yen (tax, shipping fees, cash on delivery fee, and test fee included)
If you would like to take Self-Administered Fatty Acid Blood Test, please contact us with this form.
The parcel will be delivered using cash on delivery service; please notify us of the preferred delivery date and time.

Please note:
• This test is conducted entirely in Japanese, including the application procedure and communication of test results.
• This test employs systems generally (but not exclusively) designed for and aimed at people living in Japan, including shipping systems to send the test kits and return specimens.
Caution: Consider Before Applying
●This test requires you to puncture your fingertip and draw blood by yourself using the blood collection device (a lancet) included in the test kit. Both puncturing the fingertip and drawing blood from others are considered medical procedures, so please be sure to do them by yourself.
●For those intending to sell the test kit to a third party in Japan, please note the following. Blood sampling devices (lancets) are categorized as controlled medical devices in Japan. Therefore, before selling the test kit to a third party, it is necessary to submit a required notification to the public health department of the local municipality in advance and have it accepted.
The notification includes a column for the medical device manager, who must either complete an introductory training course approved by the Minister of Health, Labour and Welfare or hold a qualification (physician, dentist, or pharmacist) certifying the possession of equivalent knowledge. For details, please contact the appropriate local municipal office.
International customers: please comply with local regulations.
Frequently Asked Questions
What advantage (unique features) does this test offer?

・This is an easy do-it-yourself test in which you simply collect a blood sample and return it. (No trips to medical institutes are required.)
・The test results are useful for evaluating the trans fatty acid intake. (General clinical tests do not measure this.)
・The Omega-3 index is also measured. (General clinical tests do not measure this.)

Is there an age restriction to take this test?

There are no age restrictions. This test can be taken by people of all ages.

What is the Omega-3 index included in the test results?

It represents the proportion of the sum of EPA and DHA to the amount of phosphorus lipid in red blood cell membranes. While not actually measured, it is estimated using an original coefficient.
This method has gained worldwide attention as a powerful indicator of various health conditions.

Why can't I touch the filter paper?

Fatty acids from the sebum on your fingers may adhere to it and affect the results of the fatty acids in your blood.
(*The test should be done after washing hands. Slightly touching the paper will not influence the results.)

Despite pricking my fingertip several times, I'm unable to get enough blood. What should I do?

Fix your finger on the desk and press firmly from both sides, above and below. Applying pressure with force will make it easier to take a blood sample.
(*It is important not to hesitate when you prick your finger.)
(*This will reduce fingertip pain.)

I am usually careful about my diet, but I ate out/ate junk food on the planned blood collection day.
If I take blood on this day, will it adversely affect the test results?

A. The meal immediately before collecting blood does not directly influence the results.

Will people with allergies (especially children) experience a reaction in response to the pricking?

We have never had such a case, but disinfecting the needle with alcohol may cause irritation.

Who will perform the inspection? Is it a domestic laboratory or an overseas one? How long will it take to receive the test results?

A laboratory in Australia will perform the test. The results will arrive about one month after the specimen is sent to the laboratory.
*For inquiries, please use this form.